ACTA Members save with Travefy
Access City Guides for
600+ Destinations on Travefy!
Destination content at your finger tips.
Quickly build itineraries and quotes with beautiful destination content including rich descriptions, high resolution photos and more.

Not only do Travefy's City Guides offer powerful, detailed information—but it's easy to use with a simple drag and drop. You can add full city guides or customize and curate as much as you wish. Learn how City Guides work.

City Guides are currently included in the Plus Plan on Travefy Pro.
Join a Live Webinar to learn more about City Guides and other exciting updates from Travefy:
Reserve your seat here.

Start a free trial and try out City Guides:
Over 600 Destinations
Destination content is supplied directly from local DMOs and travel experts.

View All Destinations
50,000 Points Of Interest
City guides include over 50,000 POIs, making travel content simple.
Detailed Categories
Add detailed sections like dining, the city, activities, landmarks, essential information and more.


More on City Guides and Travefy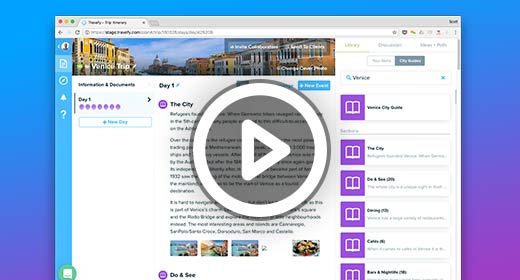 See How It Works
Search, drag, drop. It's that easy to add rich, detailed destination content.
Watch Demo
Impress clients with beautifully branded and customized itineraries.
With Travefy, you can build beautiful, customized itineraries or quotes and send them to clients via link, PDF or mobile app. See some examples here.

Travefy has been featured in The New York Times, The Wall Street Journal, and Forbes among other publications and has won numerous innovation and travel awards including the American Society of Travel Agents (ASTA) Entrepreneur of the Year.

Give it a spin: